VARIOPLANT® PS
High quality pumpkin seed protein
VARIOPLANT® PS are pumpkin seed protein powders made by 100% pumpkin seeds of grade AA. The seeds are partially defatted using a special physical pressing process in low temperature, the obtained pumpkin seed oil cake is filtered and milled into fine powder only, the original flavor of pumpkin seeds and rich nutrition are well preserved.
The product is good at taste and nutrition.
EUROSOY offers natural products, which can differ due to variations in crop. These variations will be kept to their minimum by strict selection of raw materials.
Applications: shakes und smoothies, sports nutrition, meal replacements, snacks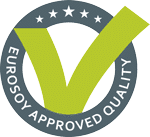 NON-GMO

Light green

Fine, dry powder

Nutty odour and taste